<
Copyright © 2017 NeuroMentix, LLC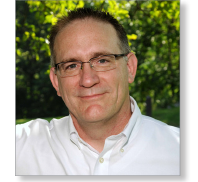 Founder, Chief Scientist

Charles Peck, Ph.D., is the President and Chief Scientist of NeuroMentix, which he founded with the goal of creating the world's first thinking machine.

Dr. Peck is a world-recognized expert in neural system modeling and neuroinformatics. Prior to founding NeuroMentix, Dr. Peck led IBM's flagship systems neuroscience research effort for twelve years at the Thomas J. Watson Research Center. Dr. Peck's research focused on analyzing, modeling, and understanding the brain for science, medicine and technology applications. In addition, Dr. Peck and his team produced a state of the art simulation environment for large scale neural system modeling on high performance computing platforms and conducted research into leading edge machine learning, statistical analysis, and medical imaging reconstruction techniques. Dr. Peck was a member of the Blue Gene Supercomputer team awarded the National Medal of Technology by President Obama and has been recognized with multiple Research Division Accomplishments. Dr. Peck and his team collaborated with researchers around the world and published over 100 research publications. He authored nine issued and pending patents while at IBM.

Earlier, Dr. Peck worked at Lockheed Martin's Advanced Technology Laboratories, where he managed a research group focused on Advanced Distributed Software Architectures. He was awarded Lockheed Martin's NOVA Award for Excellence, the company's highest honor, for his software architecture contributions. He was also identified by the National Academy of Engineering as one of America's top young engineers and selected to participate in their Frontiers of Engineering program.
Dr. Peck currently serves on the Advisory Boards of BRAIN-Code for the Ontario Brain Institute in Toronto and recently on the Neuroinformatics and Computational Neuroscience Doctoral Training Centre at the University of Edinburgh. He was invited to teach "Global Brain Modeling" as an Adjunct Assistant Professor at Columbia University and has lectured extensively at conferences in the United States and overseas.
Dr. Peck received his Ph.D in Electrical Engineering from the University of Cincinnati.

Please see Dr. Peck's curriculum vitae for details of his career and accomplishments.